State of the art shielding bschirmung von 5G
Graphene technology
EMF-TURTAL

Our product is available for an affordable price and is therefore available to a large number of customers. We rely on innovative graphene technology. With this we supplement the market with a product of high quality and price, which is in no way inferior to the competition. For our product EMF-TURTAL we use the principle of Faraday shielding. This principle is an arrangement known as Faraday cage and is used today in electrical engineering for shielding of electrostatic fields. Thus EMF-TURTAL efficiently shields: 5G, LTE, WLAN and other HF as well as LF loads with shielding values of 29* dB-58* dB (with 2 layers! depending on layer thickness and frequency – see expert opinion).
(independent expert opinion)
We offer our product EMF-TURTAL PLV as a fine powder which has to be mixed with water by the customer himself. Due to our unique production process we are able to offer EMF-TURTAL powder – compared to our liquid product – at a favourable price on the market and are therefore able to offer a high quality shielding at a favourable price.
EMF-TURTAL PLV 2.5 is offered as 1.200 kg container, which, when added to water, produces 2.50 – 2.75 litres of ready-to-paint shielding paint, sufficient for about 10 – 12.5 m² (depending on the substrate for a painted layer).
There are also other advantages of the powder for the customer, due to the very long storage stability and a low shipping weight.
*Ø-value – 29 – 58 dB (varies depending on frequency & layer thickness 208 g/m² to 316 g/m² dry weight)
** at high frequencies of 40 GHz we achieve up to max. 58 dB to  65 dB (for coated layers of 208 g/m² to 316 g/m² dry weight)

Efficient shielding of HF and LF loads
EMF shielding at the highest level
Especially fast drying time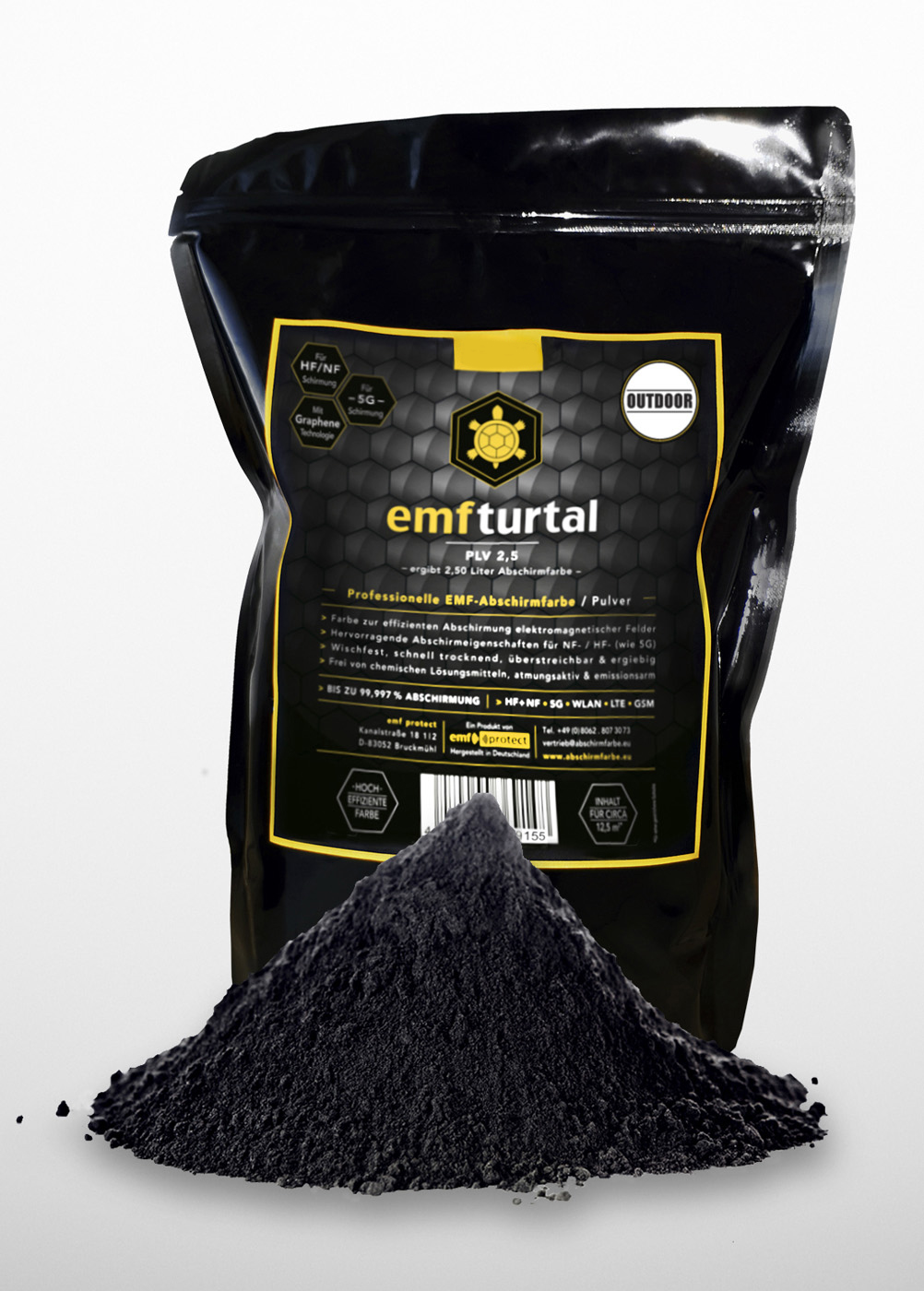 Advantages of EMF-TURTAL PLV
Shielding powder
The advantages of EMF-TURTAL PLV are, among others, the use of the special properties of graphene, the fast drying time and a pleasant working without chemical solvents, which makes our PLV product very low in emissions. As our product has to be mixed with water by the end user in order to prepare it ready for use, we have outsourced a complete work step and can therefore set our end user price lower. Since we rely on innovative graphene technology, the shielding properties of EMF-TURTAL PLV are at the highest level. We deliberately avoid chemical additives such as antifreeze and solvents. Another big advantage is that EMF-TURTAL PLV is not susceptible to frost and can be shipped without any problems even in winter. Another advantage is the low volume and weight of the packaging unit which keeps shipping costs slim.